Pearson Miller Analogies Test (MAT):
Register by phone, call 570-773-1270
Available at Mahanoy City
$65 check payable to SCEC
Exam time is one hour
For more information on the exam, click here.
ETS Praxis Series Test:
SCEC-Schuylkill Haven site is actively meeting the computer-based testing center requirements and should be offered soon.
CollegeBoard CLEP Test:
Check with your enrolled institution that they will accept credit for the available CLEP test and which course, if you pass, will the test exempt you from taking. SCEC only proctors the CLEP exams and reports the scores to CLEP, we do not advise which college courses at your enrolled institution matches a particular CLEP test as each school varies greatly as to what is acceptable for that school.
SCEC is an approved CLEP testing center for CLEP exams. CLEP tests are administered by computer. Cost to take the exam is currently $80. An exam voucher must be purchased via the "My Account" feature on the Collegeboard CLEP website prior to testing day, after purchase print the voucher and bring it to the testing center on your scheduled test date. SCEC does not charge any other exams sitting fees. To schedule a test at SCEC call 570-773-1270 or email jmullen@edcouncil.com.
SCEC-Mahanoy City (Test Center #: 4753), 1 West Centre Street, Mahanoy City, PA 17948.
Note that if you purchase a voucher for a one test and decide to change what test you would like to take on your scheduled test date, you must login to your "My Account" and change the test to the test you want to take, after changing the test you must reprint a new voucher to bring to the test center.
Exam time is 90 minutes except for College Composition which is 120 minutes.
As of October 17th CLEP's new policy allows for exams to be repeated after a 3-month waiting period (6-months was the previous waiting period).
For more information on CLEP exams and exam preparation, visit http://clep.collegeboard.org.
How to Prepare for CLEP tests:
Collegeboard CLEP offers the official CLEP study guide which includes preparation for all 33 exams, CLEP individual exam study guides for specific exams, and the CLEP demo sampler information can be found and purchased by visiting CLEP's website. SCEC has 2 copies of the 2015 Official CLEP Study Guide available for check out at our Mahanoy City location. The study guide includes: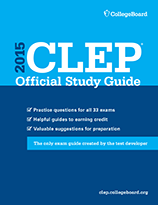 Official practice questions for all 33 CLEP exams, published by the official sponsor of CLEP
Exclusive sample questions for the new College Composition Exams
Helpful guides to earning college credit, evaluating a college's CLEP policy, and applying for credit
Valuable suggestions for preparation, including methods of self-assessment and strategies for answering exam questions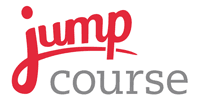 Jumpcourse offers interactive online courses to prepare for the following CLEP exams: Intro to Psychology, Intro to Sociology, Intro to Statistics, Organizational Behavior, Financial Accounting, Marketing, Business Law, American Government, Microeconomics, Macroeconomics, and College Algebra. Additional Jumpcourses are always being added.
Jumpcourse Guarantee: Jumpcourses are priced at only $99, with no textbook to buy, and every course is backed by 100% Money Back Guarantee. Just drop your course within 30 days, and get 100% of your course fee returned! And after 30 days, once you take the entire course and, if for any reason you are not fully satisfied, just let us know and we will refund 100% of your money back to you! For more information, visit Jumpcourse.